Biography


American tenor Howard Haskin garners praise and accolades worldwide as much for his "extrovert dramatic presentation" as his "ringing, lustrous" voice. A true polyglot, Mr. Haskin's ability to speak French, German, Italian, Russian, Dutch and English always wins him high praise for diction and is invaluable in bringing roles to life on the opera stage. Audiences thrill to the unique combination of his multiple talents – first-rate musicianship, intelligence, his dramatic prowess, as well as the eloquence, vitality and expressiveness of his voice.

Howard Haskin is also known for his versatility, having performed over fifty operatic roles. The first black dramatic tenor to have ever sung Verdi's Otello in a major opera house (at Opéra de Nice in 1995), Howard Haskin also broke ground earlier in his career, receiving wide acclaim as the first and only black tenor to have ever taken the title role of Peter Grimes in the United Kingdom (at Kent Opera in 1984). Both of these title roles are still very much in his repertoire, having most recently performed Otello with the Dorset Opera Festival in 2011 and Peter Grimes with the Finnish National Opera in 2010. Howard Haskin created the pivotal role of Vova (the Idiot) in Schnittke's Life with an Idiot at Nederlandse Opera, conducted by Mstislav Rostropovich, and has appeared as the Jailer/Grand Inquisitor in Dallapiccola's Il Prigioneiro in New York, Montreal, Paris, Amsterdam, Florence, Tokyo and Stockholm. A live recording of this last perfomance, under the baton of Esa-Pekka Salonen and released on the Sony Classical label, received a Grammy nomination in the "Best Opera Recording" category. Other standout roles include Bacchus, Don José, Cavaradossi, Jason in Cherubini's Médée, Oedipus Rex, Paris in Tippett's King Priam, Samson and Sportin' Life.

Howard Haskin's incredible musicianship has allowed him to replace indisposed colleagues at very short notice on more than a few occasions. The Nice Otello in 1995 was a case in point, as he was called to save the day only 24 hours before the curtain was to rise (read the full story behind this unprecedented event). In 2002, he stepped in to sing the role of Bacchus to critical acclaim for the full run of Ariadne auf Naxos at the Opéra de Lyon under the baton of Ivan Fischer and directed by Günther Krämer. Mr. Haskin repeated this exploit a few weeks later in a different production of Ariadne at the Opéra de Marseille under Michiyoshi Inoue and reprised his performance in the Lyon production at the Théâtre du Châtelet's Festival des Regions in Paris later that same year.

Along with his operatic successes, Howard Haskin enjoys a distinguished career as a concert singer and recitalist. Among other works, he is well known for his performances of Dream of Gerontius, Beethoven's Ninth Symphony and Christus am Oelberg, Tippett's A Child of Our Time, Verdi's Requiem and Mozart's Requiem. He has often has been featured as the tenor soloist in Mahler's Das Lied von der Erde. Performances of all these works and many others have taken him to such prominent venues as the Concertgebouw in Amsterdam; Carnegie Hall and Avery Fisher Hall in New York; Opéra Comique in Paris and Opéra Bordeaux; the Franck Conservatory in Budapest; the Alte Oper in Frankfurt; the Dresdner Musikfestspiele; Wigmore Hall, the Barbican Centre, Queen Elizabeth Hall and Royal Albert Hall in London; and to a range of other cities, including Tokyo, Sao Paulo, Brasilia, Glasgow, Stockholm, Kansas City, Montreal, Dallas and Los Angeles.

Howard Haskin frequently collaborates with leading conductors other than those already mentioned, such as Bruno Bartoletti, Charles Dutoit, Kent Nagano, David Zinman, Sir Charles Mackerras, Hartmut Haenchen, Anne Manson, Ira Levin, Andrew Litton, Robin Stapleton, Sir Edward Downes, Elgar Howarth, Sir Simon Rattle, Sir Roger Norrington, Donald Runnicles, Urs Schneider, Nicholas Harnoncourt and Nello Santi. Distinguished directors with whom he has worked on stage include Sir Nicholas Hytner, Boris Pokrovski, Charles Hamilton, Peter Sellars, Harry Kupfer, Trevor Howard, Götz Friedrich, Jean-Pierre Ponnelle and Günther Krämer. Mr. Haskin has performed at many of the world's great opera houses, including Covent Garden, English National Opera, Paris-Garnier, Théatre du Châtelet, Lyon, Nice, Marseille, Amsterdam, Florence, Madrid, Sao Paulo, Dublin, Helsinki, San Francisco, Cincinnati and Zürich, as well as the festivals of Buxton, Wexford, Glyndebourne, Orange and Bregenz.

Leading orchestras with whom Howard Haskin has performed include the Berlin Philharmonic, BBC Symphony Orchestra, Manchester Camerata, Scottish Symphony, Dublin Symphony, Rotterdam Philharmonic, Radio Kamerorkest NCRV, Budapest Festival Orchestra, Residentie Orkest, Los Angeles Philharmonic, Hollywood Bowl, Orchestre de Caen, Orquestra Nacionales de España, Scharoun Ensemble, Haarlem Orkest, Orquestra Symphonica do Teatro Nacional Claudio Santoro, Haifa Symphony, Meitar Ensemble, Mahler Chamber Orchestra, Orchestre de l'Opéra National de Lyon, Tonhalle Orchester Zürich, Minnesota Orchestra, Orchestre Symphonique de Nancy, Niew Vlams Symfonieorkest, and the Kansas City Symphony.

Howard Haskin first attracted attention throughout Europe in 1981 by garnering first prize in both Paris singing competitions, as well as first prize in the s'Hertogenbosch singing competition. The s'Hertogenbosch prize was a distinction that had not been bestowed on a tenor in 15 years.

Born in Kansas City, Kansas, Howard Haskin received his early musical education at Wichita State University and at Indiana University, Bloomington. In 1978, he was awarded a scholarship by the Zürich Opera Studio, where he profited from intensive coaching and performed a number of smaller roles, becoming a member of this company during the 1979-1980 season.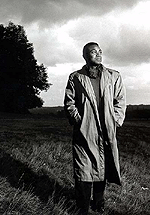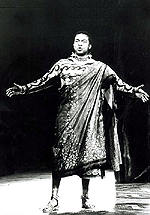 Howard Haskin as Jason in Médée at the Buxton Festival.