Rediscovered French Art Songs by Forgotten Composers
I am thrilled to have launched a new and entirely unprecedented collaborative project with my great friend and colleague of many years, the pianist David Triestram (our previous projects together include "Shadow and Substance," a CD of song cycles by Dominick Argento, released by Deux-Elles). We have put together a group of wonderful art songs, all by unjustly neglected French composers. A voice student of mine, Marie-Laure Moriset, who is also an amateur musicologist, just happened to have begun research along these lines some time ago at the Bibliothèque Nationale in Paris and unearthed a large number of forgotten art songs by twenty or so composers active from the end of the 19th century to the early 20th century. David and I spent six months delving into this treasure trove in order to present a limited yet varied and cohesive selection of art songs by four of these composers: Marc Delmas, Paul Lacombe, Henri Lutz and Paul Puget.
Below you will find biographical details on these little-known composers (with our thanks to Marie-Laure Moriset). We also provide audio excerpts of two art songs by each of them.
Marc Delmas (1885–1931)
Marc Delmas was born in Saint-Quentin, a city in Picardy in northern France, in 1885. He entered the Paris Conservatoire at the age of 16, while also pursuing studies in literature.

Beginning in 1909, he garnered several prestigious prizes before winning the Premier Grand Prix de Rome in 1919 for his cantata Le poète et la fée, followed by the Prix Crescent in 1921 for his lyric drama Iriam. Delmas was seen at the time as a "young and brilliant" composer and often wrote music for the theater. His opera Camille was presented at the Opéra-Comique in Paris in 1921. At the Théâtre des Arènes in Béziers, Penthésilée was presented in 1922 and Le Dieu sans couronne in 1923. In 1925, he received the Grand Prix de la Musique de la Ville de Paris for his opera Cyrca, which was presented at the Paris Opéra in 1927. His wide-ranging body of work includes chamber and symphonic music, instrumental and choral pieces as well as a requiem mass, plus about a hundred art songs on texts by Albert Samain, Henri de Reignier, Théophile Gautier, and Marcelline Desbordes-Valmore. In the early 20th century, Delmas also earned renown as a musicologist and music critic. He penned essays on Gounod, Massenet and Bizet as well as a remarkable biography of Gustave Charpentier.

Named Chevalier of the Legion of Honor in 1925 and decorated by King Albert I of Belgium, Delmas died suddenly at the age of 46 in 1931, at the height of his powers.
Excerpts
Confins

Howard Haskin, tenor; David Triestram, piano

La Musique

Howard Haskin, tenor; David Triestram, piano
Paul Lacombe (1837–1927)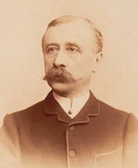 A native of Carcassonne in southern France, Paul Lacombe exhibited musical talent from a young age. He studied piano, harmony, counterpoint and fugue. A keen admirer of the opera Les pêcheurs de perles, he wrote a letter to its composer, Georges Bizet, requesting advice and, if the master were willing, lessons in composition. This was the start of a long correspondence between the two men, which evolved into a close friendship.

Lacombe produced a highly varied body of work, from orchestral compositions, including three symphonies, to chamber music (trios, quartets and sonatas) and numerous piano pieces, as well as art songs revealing a strong literary sensitivity.

Always at the forefront among French symphonists, he was one of the founding composers of the Société Nationale de Musique, with the aim of promoting French music and allowing young composers to present their music in public, and counted Gounod, Fauré, Chabrier, Franck and Saint-Saëns among his friends. Appreciated for their elegance, purity and richness of invention, his works were presented during his lifetime in Paris at the Salle Pleyel and the Théâtre du Châtelet. They were also performed frequently in other cities throughout France and across Europe, particularly in Germany where his chamber music found great favor.

Strongly attached to his native Languedoc, Lacombe never really set down roots in Paris. After the premiere of his third symphony in 1887, he decided to return to the Montagne Noire, where his father ran a drapery factory.

Named Chevalier of the Legion of Honor in 1902 and elected as member of the Académie des Beaux-Arts in 1903, Lacombe died in Carcassonne in 1927, just before his 90th birthday. Although a monument was erected to his memory in his birthplace, his compositions were unjustly neglected for a great many years. It was not until 1984 that the city of Carcassonne paid homage to his life and work, with an exhibition at the municipal library and a concert in the city hall's courtyard.

A biography by Martial Andrieu, Paul Lacombe, le testament musical d'un grand symphoniste français (Musique et patrimoine, March 2013) has prompted a rediscovery of this talented composer and in July 2015 the Festival de Radio France et Montpellier Languedoc-Roussillon programmed his Sonata for cello and piano, op. 100, a concert that was also broadcast on Radio France.
Excerpts
Elle dort

Howard Haskin, tenor; David Triestram, piano

Roses ardentes

Howard Haskin, tenor; David Triestram, piano
Henri Lutz (1864–1919)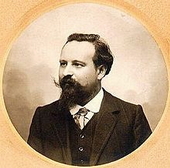 Born in Biarritz in 1864, Henri Lutz was awarded the Deuxième Grand Prix de Rome in 1890 for his cantata Cléopâtre. Although he was initially selected to receive the Premier Grand Prix for this work, in the end Lutz did not obtain this honor, despite praise from no less a champion than Saint-Saëns, who said to him, "You were the man of the hour."

Lutz left behind a vast and varied body of work, including music for the theater (Inès de las Sierras, Rolande, La Bonne étoile and Vlasta, composed for the soprano Félia Litvinne), symphonic pieces (Lumen, Émeraude, L'Île engloutie), pieces for chorus and orchestra (Le cœur de Hialmar, Stella, Les Voix de la mer), and chamber music, as well as a number of art songs on texts by Sully Prudhomme, Albert Samain and Louis Ratisbonne.

His works were performed regularly in Paris during his lifetime, as part of the Colonne and Lamoureux concert series.

But he was best known as a composer in Biarritz, a city that had become a fashionable seaside resort at the end of the 19th century and was very popular with European royalty. Lutz performed his own works in the city's concert halls and at the magnificent Palais Sacchino, the residence of Natalija, princess and queen consort of Serbia.

A festival devoted to his music was presented in 1902 in Biarritz.

In 1910, Lutz left his native city for Paris, where he was to take up the position of head of music at the École Niedermeyer. His compositions then quickly fell into oblivion and he died in 1919 at the age of 55.
Excerpts
Chanson

Howard Haskin, tenor; David Triestram, piano

Pluie

Howard Haskin, tenor; David Triestram, piano
Paul Puget (1848–1917)
A native of Nantes, Paul Puget won the Premier Grand Prix de Rome at the age of 24, for his cantata Mazeppa. His father Jules Puget was a renowned tenor, often featured at the Paris Opéra and the Opéra-Comique, who was also the voice teacher of the famed soprano Emma Calvé.
Puget's compositions, must of which are vocal works, met with great success in Belle Époque Paris. Above all, he is known for his operas composed between 1886 and 1899 (Le signal, Ulysse et les sirènes, Beaucoup de bruit pour rien and Les jardins d'Armide) as well as his many art songs, including two exquisite song cycles on texts by Armand Silvestre, Litanies de la beauté and Amour d'Hiver. He is also well regarded for having written the musical accompaniment for a groundbreaking adaptation of the play Lorenzaccio by Alfred de Musset, with Sarah Bernhardt in the title role, presented in 1896 at the Théâtre de la Renaissance in Paris.
Puget was appointed as chef de chœurs for the Paris Opéra in 1900. Named Chevalier of the Legion of Honor in 1902, he died in Paris in 1917, at the age of 69. Seven years after his death, in 1924, a festival was presented at the Salle Gaveau entirely devoted to his music.